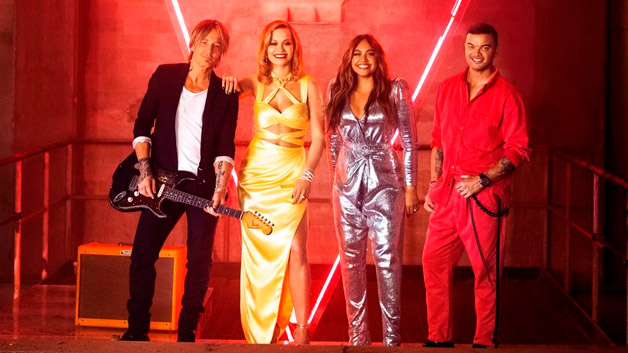 The first look of the new season of The Voice has been released and it's got fans excited! The new glitzy promo gives us the first glimpse at the new lineup of coaches in their first performance together.
The sneak-peek debuted on Monday and shows superstar coaches, Rita Ora, Jessica Mauboy, Keith Urban, and Guy Sebastian getting together to perform an epic version of Justin Timberlake's song, 'Can't Stop The Feeling.'
With a new pink look, the epic promo introduces new coach Rita Ora, coming out of her pink Cadillac. We also meet new coach Jessica Mauboy, and returning coaches Guy Sebastian and Keith Urban as they get together and get brought up in pink lit-up elevators to a crowd where they perform 'Can't Stop The Feeling.'
Rita Ora said about the promo:
"I can't think of a better way to launch a season this big than with a promo so fabulous. Everything from the song, my pink Cadillac and the powerhouse location was absolutely breathtaking. It takes an army to pull together a shoot like this and the team were so on point."
Guy Sebastian also said it was the most epic promo he's been a part of:
"This was the most epic promo I've ever been a part of! It was a lot fun, especially the parts in the lift where I think some of my fellow coaches were about to throw up… It was great hanging with my Voice family and also working with James Chappell, who has directed seven music videos for me. He killed it. I can't wait to see it all come together on television!"
Fans responded positively to the exciting promo, with one viewer saying, "Seriously just can't wait for this season! New look is awesome
". Another commented, "Omg I'm so excited I was hooked last year I can't wait to see what this year brings."
The 2021 season is the first iteration of the series on its new home on Channel Seven after moving from the Nine Network. It will be the tenth season of the show and will be hosted by Sonia Kruger.
No further details of premiere dates have been announced, however, it will launch after the Olympic Games.
Image Credit: Seven Network