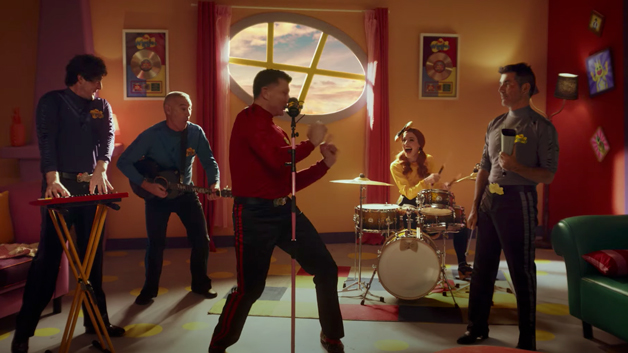 The Wiggles have gained a new member in the latest Uber Eats Australia ad, with Simon Cowell appearing in a hilarious campaign as the Grey Wiggle.
Swapping his role as a judge on America's Got Talent, the TV show mogul, and record executive has become the fifth member of the beloved Australian children's group.
The 61-year-old record executive is known for discovering and managing music groups such as Little Mix, Fifth Harmony, Il Divo and One Direction but has become a music star himself in this latest collaboration.
Uber Eats Australia posted the video to their socials with the caption, "Meet the Grey Wiggle. It's a no from him." Cowell is known for his tough nature as a judge on competition shows which reflects in his 'grey' persona in the ads.
Blue Wiggle Anthony begins the video singing…
"Tonight, I'll be eating… Rices with spices", Purple Wiggle Lachy continues, "zucchini linguine" and then Red Wiggle Simon continues, "with chicken flame-grilled…"
Grey Wiggle Cowell then interrupts saying, "I've already eaten…" as Yellow Wiggle Emma spins some positivity saying, "Oh… Grey Wiggle! Dinner is better when we eat together!"
Cowell then rolls his eyes saying, "Thank you. Congratulations. I now hate music"
Red Wiggle responds with, "I like the Grey Wiggle."
And Cowell replies with, "Quiet red one…"
David Griffiths, Uber Eats AUNZ head of marketing, said about the campaign:
"Aussies love nothing more than coming together with their friends and family, and usually, food is at the heart of these sharing occasions. Consequently, we are seeing more and more families come into the category. The Wiggles are an Aussie institution and Simon was the perfect person to join the band as The Grey Wiggle. The campaign builds from week-to-week across all forms of traditional, digital and social media so keep an eye out for some amazing collaborations and VIP appearances."
The video is one of five in a series of funny ads and viewers have responded positively, loving the contrast of the happy children's group and serious and sarcastic tone of Cowell.
Image Credit: (@ubereats_aus / Instagram)