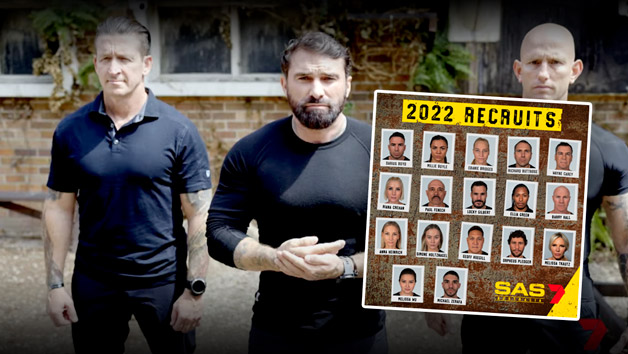 Channel 7 have released an exciting first look of the newest season of SAS Australia for 2022 with new recruits and new directing staff. Promising the most extreme course yet, the new line-up of celebrity recruits will challenge themselves to tough it out to the end.
Seventeen Aussie stars were revealed in October with the full list below:
Anna Heinrich, 34 – TV Personality
Barry Hall, 44 – AFL Great
Darius Boyd, 34 – Retired NRL Star
Ebanie Bridges, 35 – Champion Boxer
Ellia Green, 28 – Rugby Superstar
Geoff Huegill, 42 – Olympic Swimming Legend
Locky Gilbert, 32 – Reality TV Star
Melissa Tkautz, 47 – Singer / Actor
Melissa Wu, 29 – Olympic Diver
Michael Zerafa, 29 – Professional Boxer
Millie Boyle, 23 – NRLW Player
Orpheus Pledger, 28 – Actor
Paul Fenech, 51 – Comedian
Riana Crehan, 34 – Motorsports Presenter
Richard Buttrose, 49 – Convicted Drug Dealer
Simone Holtznagel, 28 – Model
Wayne Carey, 50 – AFL Commentator
The seventeen celebs will go through gruelling challenges whilst being cut off from the rest of the world at a secret base, being pushed beyond their limits testing their physical endurance, sleep deprivation, interrogation and psychological testing.
In Channel 7's latest sneak peek we see main chief instructor Ant Middleton introduce the new season. He says, "Out here, far from their privileged lives, anything can kill you. What doesn't kill you, makes you. Let's get into this."
Introducing the celebrities over a montage, he reveals, "Next year, these celebrities are about to face something different. In the wild, through danger. Their lives will change. The scorching heat, the raging waters, the untamed wilderness, and two new elite commanders."
Middleton introduces his two new elite commanders, the first Navy Seal Clint Emerson. He reveals Emerson was involved in the mission that took out Bin Laden, "He served 20 years as a Navy Seal in the US unit that took out Osama Bin Laden."
Emerson says, "We have a saying in Texas, Don't mess with Texas. Meaning nothing will get in our way, and that is the same attitude these recruits better have."
The second commander Dean Stott protected Price Harry in the military, saying, "I served 16 years in the military, trained alongside Prince Harry and I've been trusted to protect his life. This is my new mission."
Middleton finishes the sneak peek off by saying, "Now, we're about to set their world on fire," and we see the celebrities literally being set on fire in some dramatic footage.
No date has been announced for the newest celebrity season but it will air on Channel 7 and on 7plus in 2022.
Image Credits: (Channel 7 / @sasaustralia Facebook)