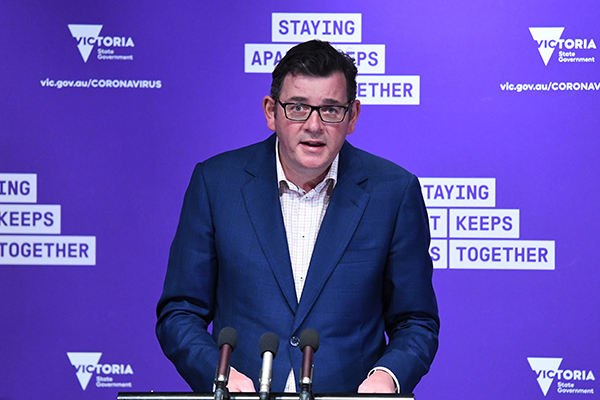 Lockdown-weary Victoria has had a double dose of good news, with no coronavirus deaths and the imminent easing of the state's regional lockdown.
It is the first time since July 13 there have been no Australian fatalities from the virus.
With the 14-day average for regional cases dropping to 3.6 on Wednesday, plus no mystery cases, Premier Daniel Andrews announced restrictions outside Melbourne would be eased from midnight on Wednesday.
It means outdoor gathering limits will be increased to groups of 10, plus hospitality and entertainment will be allowed.
People in regional Victoria will also be able to leave their homes without restriction and all shops can re-open.
"This is a great day for regional Victoria and a great day for our state," the premier said.
"As challenging as the settings are in metropolitan Melbourne, this shows you can get the numbers down, you can keep them low, and then you can open up."
Mr Andrews also urged Melbourne residents not to get discouraged about staying in stage-four restrictions as the rest of the state opens up.
"I'd encourage people not to see it that way and instead see this as proof positive ... we have driven case numbers down to very low numbers in regional Victoria," he said.
"That should be something that I think inspires confidence and a real sense of hope that the same thing can be achieved to the best of our ability across metropolitan Melbourne."
The 14-day new case average for Melbourne has also dropped to 52.9.
But there are no immediate changes to Melbourne's lockdown rules and people cannot travel out of the city without specific reasons.
Mr Andrews also warned that police would tighten checkpoints out of Melbourne.
"I'm sorry to say it will mean that there will be significant queues, there will be travel issues," he said.
The premier was measured about having no fatalities for the first time in two months, noting that 118 people are still in hospital and 11 are in intensive care.
"The reason I've not made a big thing of that is because I can't be certain ... I can't guarantee that that number holds tomorrow," he said.
It leaves Victoria's toll at 729 and the national figure on 816.
Melbourne will move to its next step of reopening on September 28 if the 14-day average falls to 30-50.
The city took its first tentative steps out of lockdown on Monday, with those living alone or single parents allowed to have one visitor, outdoor exercise extended to two hours and the curfew start time put back an hour to 9pm.
© AAP 2020
Photo: Victorian Premier Daniel Andrews (AAP Image/James Ross)